Regular price
Sale price
$4.90 USD
Unit price
per
Sale
Sold out
Instant Download

Guaranteed Payment

Hapy Families
Thanksgiving Pass the Poem – Celebrate with a Heartfelt Gratitude Game for Instant Download
Elevate your Thanksgiving gathering with our Thanksgiving Pass the Poem! In this evocative game, participants pass gifts to the left or right, guided by a beautifully crafted poem that resonates with gratitude, family ties, and memorable moments.
As the verses unfold, everyone will be eager to discover: Who will be the blessed one to unwrap the gift that embodies thankfulness? The poetic journey will have family members deeply connected and cherishing every moment.
Ideal for Thanksgiving dinners, family reunions, or any heartfelt gathering. Our Thanksgiving Pass the Poem is a unique way to bond with loved ones and reflect on the blessings of the season.
Dive deep into the spirit of Thanksgiving! Download today and let your family immerse themselves in the beauty of poetry and the joy of gift-giving.
Features:
🦃 Three Distinctly Crafted Thanksgiving Poems that Resonate with Gratitude.
🍁 Clear instructions for each poem to ensure a seamless experience.
📜 Printable poem scripts for the narrator.
🥧 Suggestions for gift preparation that capture the essence of the season.
📥 Instant download for immediate poetic immersion.
Benefits:
🌟 Infuses poetic charm into your Thanksgiving celebration.
👨‍👩‍👧‍👦 Promotes sharing, reflection, and gratitude among family members.
😊 Offers a game filled with emotion, joy, and unforgettable moments.
Why choose us?
🌟 100% satisfaction guarantee.
👨‍👩‍👦 Games that resonate with hearts and create lasting memories.
💬 Dedicated and approachable customer support.
Discover even more heartwarming games at The Game Room
HOW IT WORKS:
Upon purchase, you can instantly download the game files. Whether the narrator chooses to view the poem on a device or print it out, you're ready for a touching Thanksgiving Pass the Gift Poem session!
PAYMENT:
We accept PayPal, credit cards, and debit cards. No PayPal? No worries! Complete your payment with a credit or debit card via PayPal's secure gateway.
Please note, this is a digital product; no physical items will be dispatched.
NEED ASSISTANCE?
I'm always here to help. Don't hesitate to contact me with any questions or feedback.
Wishing you a Heartfelt and Grateful Thanksgiving,
Maria
Share
View full details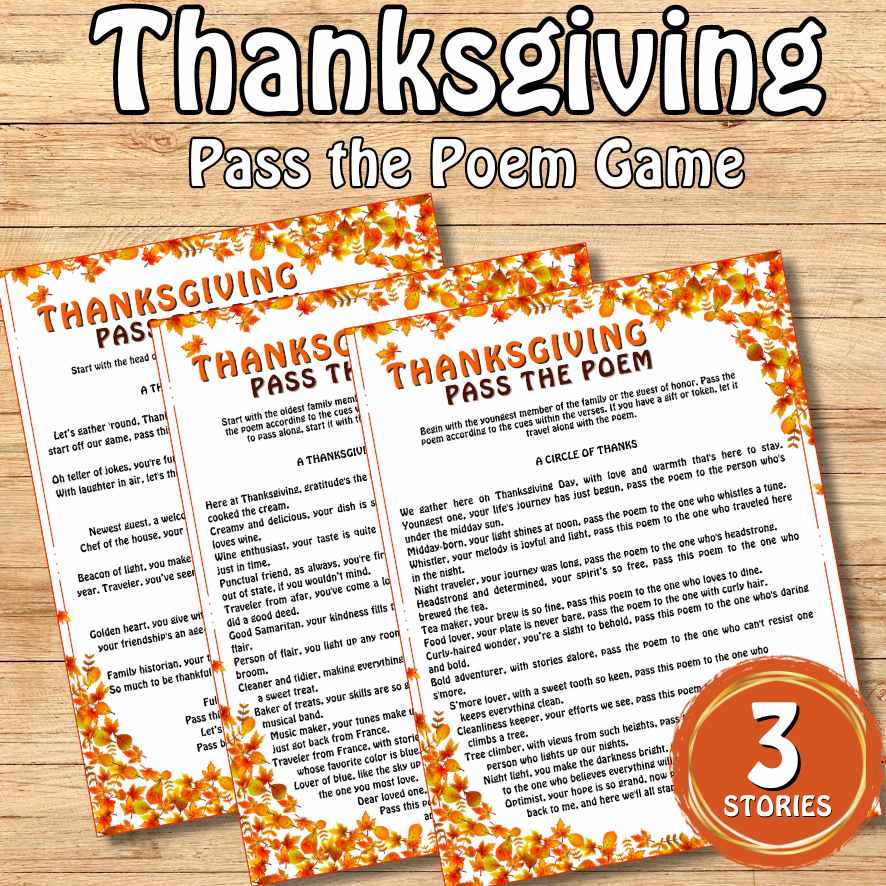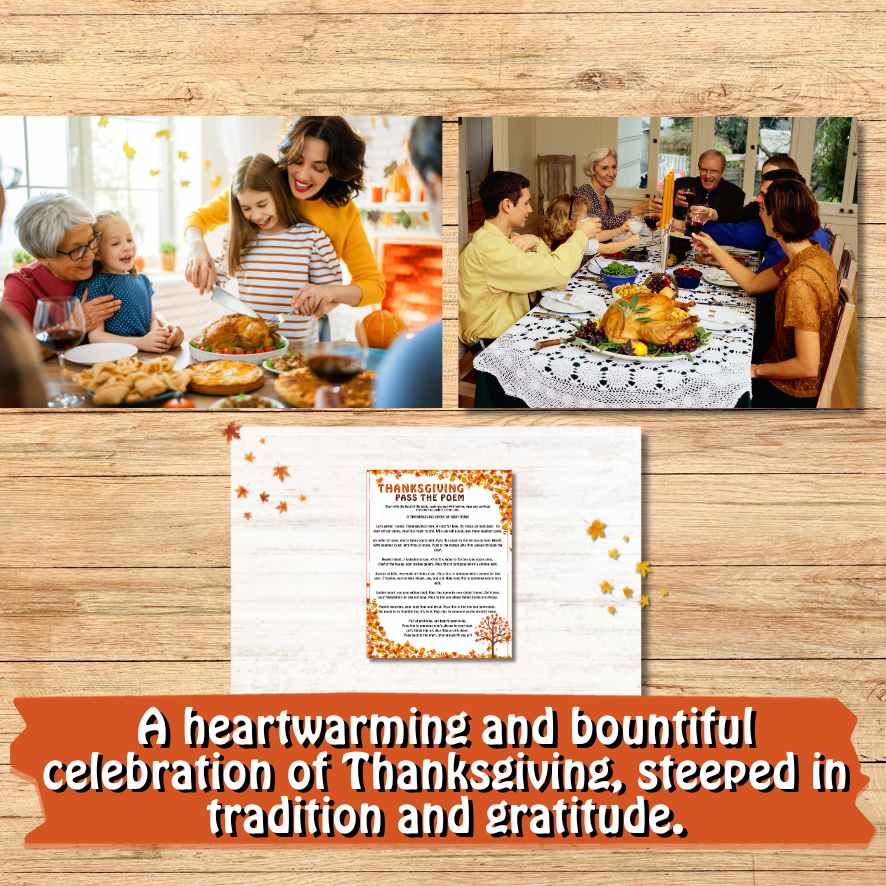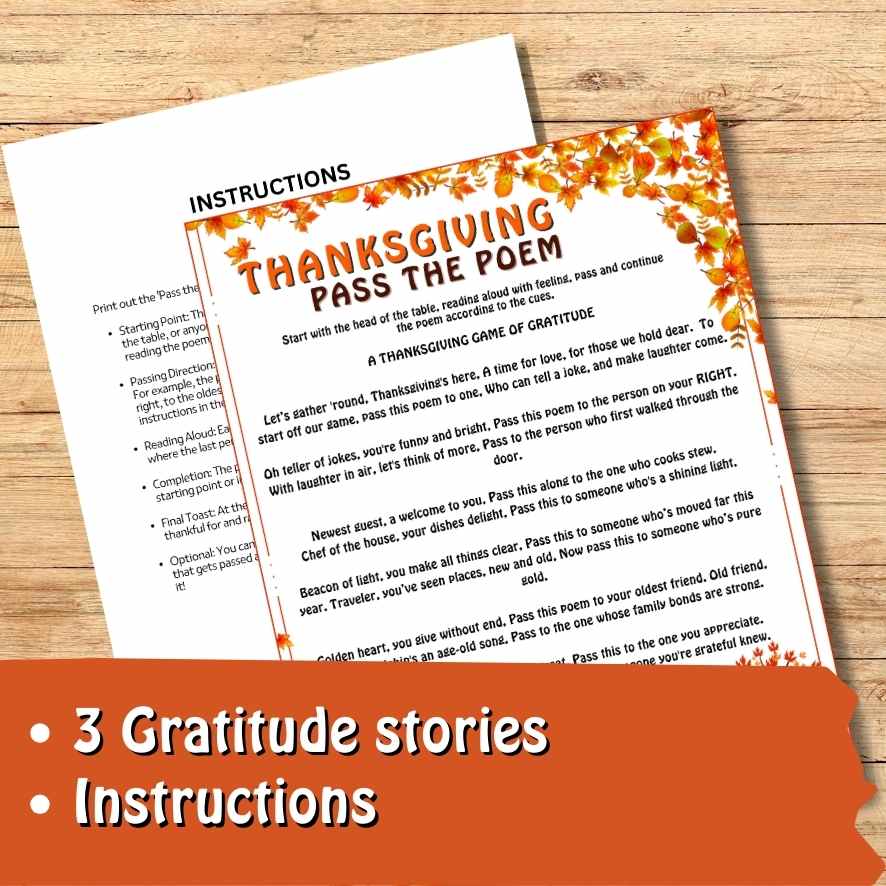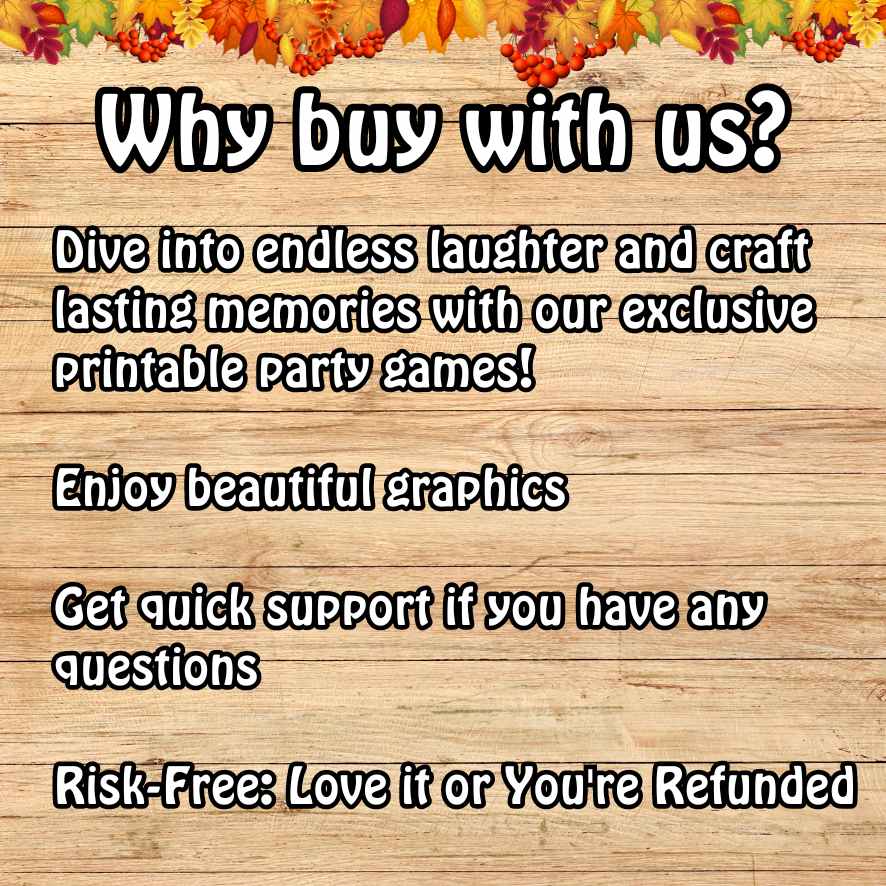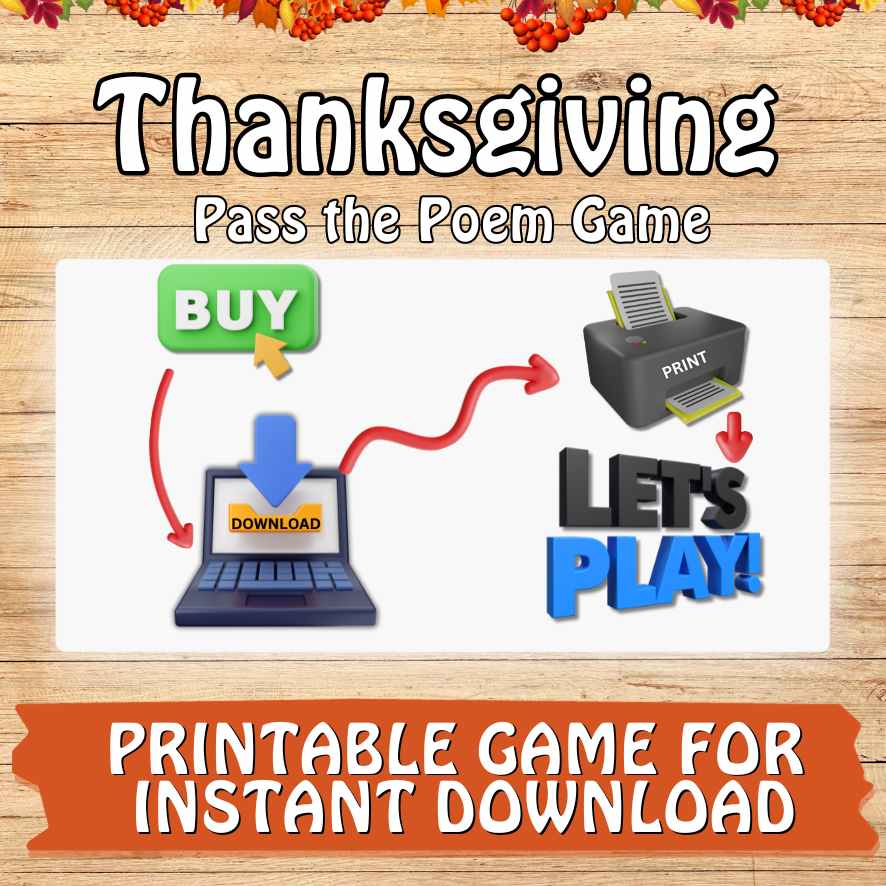 Instant Download
Games are ready to order and download
Happy Families
Enjoy our games with your loved ones
Payment Methods
All Payment methods are accepted
9.6 Etsy Reviews
Customer satisfaction #1 priority